11 Sep

SUP EXPEDITION TO THE WEST! – 11 SEPTEMBER

On the 11th of September 2021, we journeyed to the west! It was yet another awesome day for
On the 11th of September 2021, we journeyed to the west! It was yet another awesome day for
some are new to the family! During our launch everything was fine, as we were near to our destination the winds started to pick up at the 3rd and 4th hour, and before we knew it. We were fighting against the wind and tide, trying to stay on course. It was a challenge as there were areas we could not cross such as Malaysia waters and the SAF live firing area! But the motivation for lunch was strong! Hence it took us about 15 mins to get back to our original position and we managed to hang on to each other while trading laughs and enjoying our food!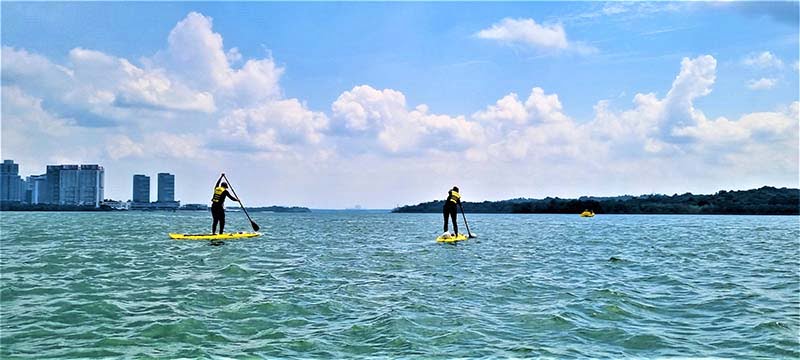 After an hour or so, it was near 1400hrs, the tide started to be more in our favour once again and we decided to head back home! New challenge for us was getting in close formation as most of us were new, while some started to feel tired. Nevertheless, we managed to pull through and at the end of it all.
 There were nothing but smiles as we cheered with relief that we have completed this challenging 18km expedition! It was short but challenging! We definitely had a good rest after and we also definitely look forward to our next adventure!
Something to look forward to, our new site at Pasir Ris Park called KOKOMO Beach Club is almost up so join us for new adventures in the east! Venture into the mangrove areas and traditional fishing villages all at Pasir ris! See you soon!