30 Aug

Kayak With Love ~ A Charity 4-Days Round Island Kayaking (Hitting The Singapore Book of Records)

It was a great and amazing achievement for a group of kayak individuals and FOCUS Adventure with the full support of SeaOPS! This was a 2 month long planning with a primary goal to raise funds for Children Cancer Foundation and for FOCUS Adventure to lead a safe and fun expedition!
On Day 1, we launched off from the west! Early in the morning, it was a great start as everyone worked together launching the kayaks into the water. Everything was clockwork, it would not be possible if not for the multiple trainings that we had prior to the event.
Our first day served as a good warm-up at Kranji and the view was spectacular, as it was low tide and the mangroves were nice. Some of us even spotted a crocodile in the water! Everyone was in high spirits and the current was flowing with us! We got to beach up on land next to
Pulau Sarimbun! We had to stick in close formation as we had to stay away from restricted areas. After 20km, we have reached our
On Day 2, our route was most tiring as we had to clear a total of 50km! From Raffles Marina to Sentosa! We started really early in the morning when the sun was about to rise.
The challenge was to cross the Sinki fairway safely! Despite setting out early, the current was against us and traffic at the fairway was busy. But luckily we had 3 safety boats for support to ensure the kayakers safety! The vessels were huge and intimidating but safely we crossed the fairway with ease! We appreciate and thank MPA for their guidance!
In no time, we arrived at Pulau Hantu for a bit of 'rest and relax' for lunch! After crossing and enjoying the various islands, (we passed by islands such as Pulau Sebarok, Jong island, Sisters island, St John's island, etc.) we safely reached SENTOSA!!! We had overcome a great ordeal where many who would have doubted us but we did it!
On Day 3, we kayaked to the east! We decided to visit several islands before heading off and the first one was St John's island! A fun fact about St John's Island is that it used to be a pandemic quarantine area in the 19th century! We shared a lot of fun facts and know-hows throughout the trip. The fleet continued paddling towards the east! We were in awe of the beauty of the city and the CBD area by the sea.
We were most fortunate to be able to cross the Keppel harbour terminal, which is also known to be a very crucial area as many vessels and ferries would be entering and exiting the area.
Luckily we had 'guardian angels' to oversee that we travelled safely! 
Day 4, it was our last and final day! The team woke up early as usual and set off on our amazing journey! But we had to brave a huge rain cloud! The rain poured and our visibility was low but that did not dampen our mood for we were determined to wait for the right timing to head out again!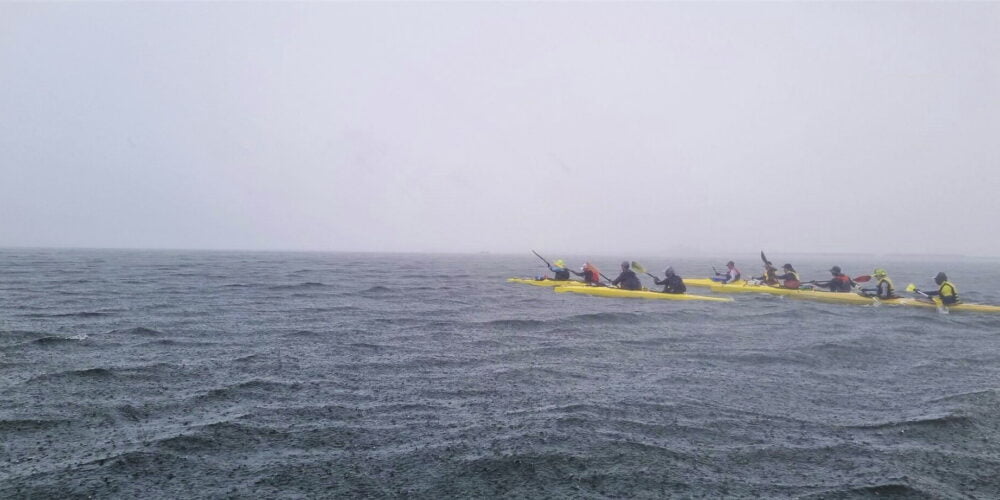 It was tough and there was nowhere to berth but it was all under control! Our lightning indicator and weather forecast showed that it was still possible to wait out for the storm to pass! Soon enough, for the sake of not getting hypothermia, the team then paddled towards the opposite side of CAHFI jetty and enjoyed a nice early lunch!
After Lunch, we continued our journey! Off to the finishing line, though everyone was getting tired, a lot of encouragement was shared amongst us and before we knew it, we had arrived at Pulau Ubin! It was nice as we were lucky to see a group of otters sand bathing as we passed by! 
It was amazing as even though we were tired, the team continued on! Passing by Punggol and the moment we reached Seletar island it was another 6km more at last!
Hitting The Singapore Book of Records for the Largest Islands-Hopping Kayaking expedition!!! Celebration is in order and everyone was happy and more importantly we were all safe and sound!
This was definitely a trip to remember! With the amount of sweat, time and efforts placed into executing this expedition for a good cause. A good reflection is that many people out there may tell you or try to dissuade you from your goals, saying that it is impossible, "this cannot be done", "you won't get the approval" but as long as you have the faith and determination we can achieve our goals! What was also important is that we successfully raised a total of S$27,080 under giving.sg for Children Cancer Foundation!
We would like to extend our deepest gratitude to MPA, DBS, the organising committee, FOCUS Adventure, SeaOPS and to everyone involved for making this possible! We had completed a total distance of over 160km! The mission has ended but the journey will forever continue!   
We definitely look forward to the next expedition and we would like You to join us! Wait no longer, click on the link to join us for our next trip or our other awesome adventures! See you there!
Dear Andrew,
We would like to thank FOCUS Adventure for taking up the challenge and your generous support and sponsorship for our Round Island Expedition from 27-30 August to raise funds for the Children's Cancer Foundation.
The planning and organisation of the expedition had its fair share of challenges, and we greatly appreciate the commitment of the Focus Adventure team, working out the details required for various approvals, supporting the training sessions, never hesitating to put in extra time and effort to overcome each challenge, and the many other tasks that helped make the expedition a success.
In particular, we would like to commend Berwin for his professionalism, dedication, tact and good spirits. He was always helpful, firm when he needed to be but always a pleasure to work with. He was knowledgeable, dependable and we could not ask for a more trustworthy and capable person to have on this project. We would also Iike to acknowledge the support from Kylie and Gilbert. Kylie meticulously organised and supported the project both administratively, but also in person for our training sessions when it was needed. Gilbert for the unwavering support to keep us safe while we train and on expedition. Without the wonderful team from Focus Adventure, the expedition would not be possible. Once again, thank you.
Above all, all of us organisers, kayakers, volunteers and supporters would like to thank the FOCUS Adventure team for the commaraderire, friendships and sharing our passion for kayaking and our desire to raise funds for the Children's Cancer Foundation.
Thank you.
Regards,
Shirley M. Lim
Having had a couple of days to reflect on the trip and have the memories of the expedition sink in, a round of applause for everyone who participated as it is truly an achievement. Special thanks to Shirley and the organizing committee and volunteers who put in efforts seen and unseen to make this expedition a success. It is now clear there was a lot of behind the scenes effort by SeaOPS/Berwin and organizers to get an eleventh hour approval from MPA, without which this trip would not have been possible. It was amazing to see the "kampung" spirit on display with everyone pitching in to help wherever they can and I am also grateful for the generosity of the sponsors who allowed us to berth overnight and provided overnight accommodations, and especially the anonymous donor that sponsored our dinner at SAFYC. I was especially touched by the SBOR individual certificate ceremony which was totally unexpected and was icing on the cake and a nice memento of the trip.
For the fundraising campaign for our beneficiary charity, September is Childhood Cancer Awareness Month, and I think we can leverage the story of our expedition to further raise awareness and hit the target of 40K.
Lastly it was great to meet new kayaking 'kakis' and like-minded outdoor/water enthusiasts and hope to see you on the water soon!
-Jeff